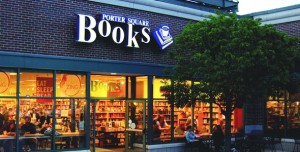 Salamander presents poets Andrea Cohen, Alan Feldman,
and Jeffrey Harrison, at 7 p.m. on Monday, September 8,
at Porter Square Books in Cambridge. The reading is part
of the Roundtable Series, hosted by Boston-area literary
journals.
Andrea Cohen's poems and stories have appeared in Salamander, Poetry, The Threepenny Review, The New Yorker, The Atlantic Monthly, and elsewhere.  Her next poetry collections, Furs Not Mine and Branch Water, will be published by Four Way Books. Other collections include Kentucky Derby, Long Division, and The Cartographer's Vacation. She directs the Writers House at Merrimack College and the Blacksmith House Poetry Series in Cambridge, MA.
Alan Feldman's poetry has appeared in The Atlantic, The New Yorker, The Nation, Poetry, The Kenyon Review, Ploughshares, Iowa Review, Threepenny Review, Virginia Quarterly Review, Yale Review, and others. His full-length collection of poems, The Happy Genius (New York: Sun, 1978) won the 1979 Elliston Book Award. A Sail to Great Island (University of Wisconsin Press), his most recent full-length collection, was awarded the 2004 Felix Pollak Prize in Poetry.  A new collection, Immortality, was awarded the Four Lakes Prize, and is due out from the University of Wisconsin Press in 2015.  The NEA and the Massachusetts Artists Foundation have awarded him fellowships in poetry. Feldman lives in Framingham, MA and, in the summer, in Wellfleet, MA.
 Jeffrey Harrison is the author of five books of poetry, including Incomplete Knowledge, runner-up for the Poets' Prize in 2008, and, most recently, Into Daylight, published by Tupelo Press in April 2014 as the winner of the Dorset Prize. In addition, a selected poems, The Names of Things, was published by Waywiser Press in the U.K. in 2006. A recipient of Guggenheim and NEA Fellowships, he has published poems in recent or forthcoming issues of The New Republic, The Yale Review, The Kenyon Review, AGNI, Pushcart Prize XXXVIII, The Twentieth Century in Poetry, and in many other magazines and anthologies.