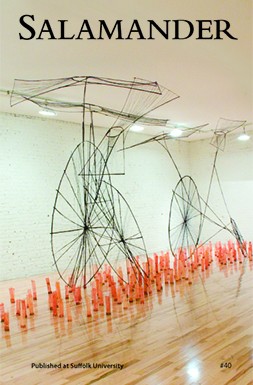 Cover art
"Listening to Landmines #2"
130 x 420 x 110 inches sculpture
by Milan Klic
Contributors
Stephen Ackerman
Stephen Ackerman has worked since 1989 as an attorney in the Legal Counsel Division of the New York City Law Department. His poems have appeared in several publications, including The Antioch Review, Best New Poets 2010, Boulevard, Columbia Review, Mudfish, Partisan Review, Ploughshares, Seneca Review, upstreet, and on Poetry Daily.
David Blair
David Blair is the author of Ascension Days (Del Sol Press, 2007) and Arsonville, which will be published by New Issues Poetry & Prose in 2016. He teaches at the New England Institute of Art in Brookline, Massachusetts.
Rosemary Booth
Rosemary Booth is a writer and photographer living in Cambridge, Massachusetts. Her book reviews and essays have appeared in the literary journals Under the Sun and The Critical Flame, and in the Imagination and Place anthology Seasonings. She is a contributing writer for The Gay and Lesbian Review.
Julia Bouwsma
Julia Bouwsma's poems and reviews are published or forthcoming in: Cider Press Review, Colorado Review, The Progressive, Puerto del Sol, RHINO, and others. She lives off-the-grid in the mountains of western Maine, where she is a writer, editor, teacher, and farmer.
Beverley Bie Brahic
Beverley Bie Brahic's poetry collection, White Sheets (CB Editions), was a finalist for the 2013 Forward Prize and her translation, Apollinaire, The Little Auto was awarded the 2014 Scott Moncrieff Prize.
Bartholomew Brinkman
Bartholomew Brinkman is an assistant professor of English at Framingham State University, where he teaches courses on expository writing, American literature, and modern and contemporary poetry. In addition to his scholarly writing, he has poems published or forthcoming in The Evansville Review and Manifest West.
Debra Bruce
Debra Bruce's latest book of poetry, Survivors' Picnic, was published in 2012 by Word Press (Word Tech Editions).
Callista Buchen
Callista Buchenis the author of the chapbooks The Bloody Planet (Black Lawrence, October 2015) and Double-Mouthed (dancing girl press, winter 2016). She is the winner of the Langston Hughes Award and DIAGRAM's essay contest, with other work appearing in Harpur Palate, Puerto del Sol, Whiskey Island, and others.
Mary Buchinger
Mary Buchinger is the author of Aerialist (Gold Wake, 2015) and Roomful of Sparrows (Finishing Line, 2008). She is Associate Professor of English and Communication Studies at MCPHS University in Boston, Massachusetts.
James Cronin
James Cronin's creative and nonfiction work has been featured in the Boston Globe Magazine, Fox Chase Review, and elsewhere. He is a writer and editor in Northern California.
David Dalley
"The Fair" is David Dalley's first published poem.
Carol Dine
Carol Dine's recent book, Orange Night, is a collaboration of her poems and the images of acclaimed artist and Holocaust survivor, Samuel Bak. She read from her previous book, Van Gogh in Poems, at the Van Gogh Museum, Amsterdam, and the Royal Academy of Arts, London. Carol teaches writing at MassArt & Design, Boston. 
Susan Donnelly
Susan Donnelly is the author of three poetry collections, most recently Capture the Flag. Widely published, she has new poems in The New York Times, Poetry East and Poetry Ireland Review. She offers classes and individual consultations from her home in Arlington, Massachusetts.
Valerie Duff-Strautmann
Valerie Duff-Strautmann is the author of To the New World (Salmon Poetry). Poems have appeared recently or are forthcoming in Solstice, Prague Review, and The Common. Her book reviews have appeared or are forthcoming in the Boston Globe, the San Francisco Chronicle, PN Review, and The Critical Flame. She is poetry editor at Salamander and is the 2015 Writers' Room of Boston Fellow in poetry.
Keith Eisner
Keith Eisner thanks you for checking out the bios. He earned an MFA from Goddard and lives in Olympia, Washington, where he writes, teaches creative writing at the senior center, acts in local productions, and listens to baseball on the radio.
Cody Ernst
Cody Ernst's poetry is appearing in Witness, Hayden's Ferry Review, Forklift Ohio, and elsewhere. He is a graduate student at The Writing Seminars at Johns Hopkins University.
Alan Feldman
Alan Feldman has a new collection, Immortality, from University of Wisconsin Press. Other books include A Sail to Great Island and The Happy Genius.  He offers a free weekly drop-in poetry workshop at the public libraries in Framingham and (in the summer) at Wellfleet.
Meghan Gilliss
A graduate of the Bennington Writing Seminars, Meghan Gilliss currently writes short fiction from her home in Portland, Maine, where each winter day she suffers the curse of her Kentucky blood. Her stories have appeared or are forthcoming in the journals New Letters (which awarded her its 2014 Alexander Cappon Prize for Fiction), The Rattling Wall, Folio, and Nat. Brut, among others. A 2014 fellow of the Hewnoaks Artist Colony, she dreams again of writing outdoors.
Michelle Graham
Michelle Graham is a Lecturer in Rhetoric at Babson College, where she teaches literature, writing, and narratives of environmental sustainability. She lives with her family—including 3 dogs, 2 cats, and 2 rabbits—on a hill near Boston.
John Greening
John Greening's most recent collection is To the War Poets (Carcanet). He is currently editing an edition of Edmund Blunden for Oxford University Press. He is a Fellow of the English Association, has received a Cholmondeley Award and is winner of the Bridport and the TLS Centenary prizes. He lives in Cambridgeshire, UK.
R. M. Haines

R.M. Haines was educated at Kenyon College and the University of California, Irvine. He has received an Academy of American Poets Prize and a Glenn Schaeffer Fellowship for his work. He is currently a doctoral candidate and teaching fellow at the University of North Texas, where he works as Assistant Poetry Editor for American Literary Review.
Janice N. Harrington
Janice N. Harrington's Even the Hollow My Body Made Is Gone won the Kate Tufts Discovery Award. Her latest book of poetry is The Hands of Strangers: Poems from the Nursing Home (BOA Editions). She teaches at the University of Illinois.
Emily Ho
Emily Ho graduated with her MFA from Brigham Young University, and now teaches at a small university on the east shore of Oahu. Her work has appeared or is forthcoming in MiPoesias, jubilat, Pleiades, CutBank, Anti-, Booth, and elsewhere. She is also the recipient of an Academy of American Poetry prize and a Hart-Larsen Poetry Prize.
Michael Jenkins
Michael Jenkins is a homemaker and part-time psychometrics technician whose poems have appeared in Shenandoah and Georgetown Review, and are forthcoming in Cave Wall.
J. Kates
J. Kates is a poet and literary translator who lives in Fitzwilliam, New Hampshire.
Jacqueline Kolosov
Jacqueline Kolosov has new poetry and prose in Sewanee Review, Prairie Schooner, Southern Review, and STAND. Her third poetry collection is Memory of Blue (Salmon, 2014), and she has two YA novels forthcoming this year.
Dorian Kotsiopoulos
Dorian Kotsiopoulos is a member of the Jamaica Pond Poets. Publications include Women's Review of Books, WomenArts Quarterly, Poet Lore, the Journal of the American Medical Association, the American Journal of Nursing, the New England Journal of Medicine, and Main Street Rag. She has been a featured reader at many venues in the Boston area.
Dan Kraines
Dan Kraines is a PhD student at the University of Rochester. His poems have appeared in Salmagundi, Redivider, Blunderbuss, Phantom Limb, H.O.W., and Box of Jars. He received his MFA from Boston University.
Brandon Krieg
Brandon Krieg is the author of a poetry collection, Invasives (New Rivers Press). He lives in Kalamazoo, Michigan.
Gerry LaFemina
Gerry LaFemina's latest books are Palpable Magic: Essays on Poets and Prosody and Little Heretic (poems), both from Stephen F. Austin U Press. He directs the Center for Creative Writing at Frostburg State University, where he is an Associate Professor of English.
Joan Leegant
Joan Leegant is the author of two books of fiction for which she won the Winship/PEN New England Book Award, the Wallant Award, and selection as a Barnes & Noble Discover Great New Writers pick. Recent story prizes include a Special Mention in the 2014 Pushcart Prize, the Nelligan Prize from Colorado Review, and Moment Magazine Fiction Prize. This year she is the writer-in-residence at Hugo House in Seattle, Washington.
Debora Lidov
Debora Lidov's poems have appeared in Five Pints, Tarpaulin Sky, The Threepenny Review, upstreet, and other journals. Her chapbook, Trance, is forthcoming from Finishing Line Press.
Frannie Lindsay
Frannie Lindsay's fourth volume, Our Vanishing, won the 2012 Benjamin Saltman Award from Red Hen Press. Her previous honors include the Washington Prize, the Perugia Prize, the May Swenson Award, and The Missouri Review Prize. Her work appears in Best American Poetry 2014. She is widely published.
Sara London
Sara London is the author of The Tyranny of Milk (Four Way Books). Her poems have appeared in The Hudson Review, Poetry East, The Common, and elsewhere.
Al Maginnes
Al Maginnes is the author of ten collections of poetry, most recently Music From Small Towns, winner of the 2014 Jacar Press Award, and Inventing Constellations (Cherry Grove Editions, 2012). He has poems forthcoming in Southern Review, Birmingham Poetry Review, Grist, and many others. He lives and teaches in Raleigh, North Carolina.
Calgary Martin
Calgary Martin's poems have appeared in or are forthcoming from Hayden's Ferry Review, Spoon River Poetry Review, The McNeese Review, and Barn Owl Review. Originally from Washington, she is currently in the final year of her MFA at the University of Illinois, Urbana-Champaign.
Martha McCollough
Martha McCollough is a videographer and writer who lives in Chelsea, Massachusetts. Her videopoems have been exhibited internationally, and have appeared in Triquarterly, Rattapallax, and El Aleph. Her poems have appeared or are forthcoming in Bird's Thumb, Cream City Review, and Small Po[r]tions.
L.E. Miller
L.E. Miller's short stories have appeared or are forthcoming in The Missouri Review, Nimrod International Journal, The Drum, Ascent, Cimarron Review and Printer's Devil Review. Her story, "Kind", was selected as a PEN/O. Henry Prize Story in 2009. L. E. Miller lives in Massachusetts with her family and is completing a collection of short stories called Other People's Beds.
Travis Mossotti
Travis Mossotti was awarded the 2011 May Swenson Poetry Award for his first collection of poems About the Dead (USU Press, 2011), and his second collection Field Study won the 2013 Melissa Lanitis Gregory Poetry Prize (Bona Fide Books, 2014). He has also published two chapbooks, and recent poems of his have appeared in issues of the Antioch Review, Beloit Poetry Journal, Southern Review, and elsewhere.
Christopher Brean Murray

Christopher Brean Murray's poems have appeared or are forthcoming in jubilat, Third Coast, Puerto del Sol, CutBank, and Fou. He is the online poetry editor of Gulf Coast and is a candidate in the PhD program in Creative Writing at the University of Houston.
Tanya Muzumdar
Tanya Muzumdar is a travel writer and an MFA candidate in poetry at Pacific University. Her poems have appeared or are forthcoming in Prairie Schooner, Gigantic Sequins, Cherry Tree, DMQ Review, Nashville Review, Bayou Magazine, Crab Creek Review, and elsewhere.
Eiléan Ní Chuilleanáin
Eiléan Ní Chuilleanáin was born in 1942 in Cork and is an Emeritus Fellow of Trinity College, Dublin, where she has taught since 1966. The Sun-Fish was shortlisted for the T.S. Eliot Prize and won the Griffin International Prize for poetry in 2010, and The Boys of Bluehill is due out this year from Wake Forest U.P.  She is a founder and co-editor of the Irish poetry journal Cyphers.
John A. Nieves
John A. Nieves' poems appear in journals such as: Southern Review, Poetry Northwest, and Minnesota Review. He won the Indiana Review Poetry Prize. His first book, Curio, won the Elixir Press Annual Judges Prize, and came out in 2014. He is Assistant Professor of English at Salisbury University.
Yehoshua November
Yehoshua November is the author of God's Optimism, which was named a finalist for the L.A. Times Book Prize in Poetry. His work has appeared in The Sun, Virginia Quarterly Review, Prairie Schooner, and on The Writer's Almanac.  He teaches at Rutgers University and Touro College.
Leah Poole Osowski
Leah Poole Osowski received an MFA in creative writing from the University of North Carolina Wilmington. Her poetry and nonfiction have appeared in Black Warrior Review, New Delta Review, Weave, and are forthcoming in Painted Bride Quarterly and Third Coast.
Jill Pearlman
Jill Pearlman is a poet with an interest in the ecstatic and the body. She is the author of the recently completed novel Clio's Mobile Home. She writes a blog about art, aesthetics, and politics.
Jody Rambo
Jody Rambo's first collection, Tethering World, received the Wick Poetry Series Chapbook Award, and was published by Kent State UP in 2011. Recent work has appeared in Barrow Street, Colorado Review, Cutbank, Gulf Coast, Notre Dame Review, Virginia Quarterly Review, among others. She teaches at Wittenberg University in Springfield, Ohio.
Joseph Rathgeber
Joseph Rathgeber is an author, poet, and high school English teacher from New Jersey. His debut story collection is The Abridged Autobiography of Yousef R. and Other Stories (ELJ Publications, 2014).  He is a five-time Pushcart Prize nominee, a two-time Allen Ginsberg Poetry Award Honorable Mention, and he received a 2014 Fellowship from the New Jersey State Council on the Arts.
Steven Ratiner
Steven Ratiner's poetry has appeared in numerous journals in America and abroad including Parnassus, AGNI, Hanging Loose, Poet Lore, QRLS (Singapore) and Poetry Australia. He's written about poetry for The Christian Science Monitor and their media stations, The San Francisco Chronicle and, currently, reviews for The Washington Post. Giving Their Word, a collection of interviews, was reissued in a paperback edition from University of Massachusetts Press and includes conversations with some of poetry's most vital contemporary voices.
Virginia Smith Rice
Virginia Smith Rice is the author of When I Wake It Will Be Forever (Sundress Publications, 2014). Her poems appear in Cimarron Review, Cincinnati Review, Denver Quarterly, Massachusetts Review, and Meridian, among other journals. She is co-editor of the poetry journal Kettle Blue Review and associate editor at Canopic Publishing.
Frances Richey
Frances Richey is the author of two poetry collections: The Burning Point and The Warrior, and the editor of Voices of the Guard, a chapbook of voice poems. She teaches poetry writing classes for Himan Brown Senior Program at the 92nd Street Y and for JASA in New York City.
Elizabeth Savage
Elizabeth Savage is author of Grammar (2012) and Idylliad (2015), both from Furniture Press. Her chapbook-dossier Woman Looking at a Vase of Flowers appears in Verse. She is a professor of English at Fairmont State University, where she also serves as poetry editor for Kestrel.
Lynne Sharon Schwartz
Lynne Sharon Schwartz's most recent book is the essay collection, This Is Where We Came In. Her other books include the novels Leaving Brooklyn, Disturbances in the Field, and The Writing on the Wall, several short story collections, and two collections of poetry: In Solitary and See You in the Dark. Her work has been widely anthologized and she teaches in the Bennington Writing Seminars and Columbia University's School of the Arts.
Lisa Sewell
Lisa Sewell is the author of several books, including Impossible Object, which won the 2014 Tenth Gate Prize and is forthcoming from Word Works Press. She is also co-editor, with Claudia Rankine, of American Poets in the 21st Century: The New Poetics (Wesleyan 2007) and Eleven More American Women Poets in the 21st Century: Poetics Across North America (Wesleyan 2012). New work is appearing of forthcoming in Drunken Boat, Prairie Schooner, Crab Orchard Review and Mead. She lives in Philadelphia and teaches at Villanova University.
Samn Stockwell
Samn Stockwell has been widely published, and her two books, Theater of Animals and Recital, won the National Poetry Series and the Editor's Prize at Elixir, respectively. Recent work has been published in Mudlark, Raritan, and Threepenny Review. 
William Wenthe
William Wenthe's fourth book of poems, God's Foolishness, will be published by LSU Press in 2016; his most recent book is Words Before Dawn (LSU Press, 2012). His poems have appeared recently in The Georgia Review, The Hudson Review, The Southern Review, Upstreet, and others. He teaches at Texas Tech University.
Carolyn Williams-Noren
Carolyn Williams-Noren is the author of a chapbook, Small Like a Tooth (dancing girl press, 2015) and is a 2014-2015 winner of a McKnight Artist Fellowship, selected by Nikky Finney. She lives in Minneapolis.
Nicholas Wong
Nicholas Wong's new poetry collection, Crevasse, was published by Kaya Press in Spring 2015. His new work can be found in Grist, Fifth Wednesday, Southern Humanities Review, Barn Owl Review and Quarterly West. He is an assistant poetry editor for Drunken Boat.