Winner
"Come Tomorrow" by Nina Sudhakar
From judge Kirstin Valdez Quade:
When a young photographer's scooter breaks down in a remote village near her grandmother's city, she finds the village mysteriously empty, except for a single old woman who is reluctant to help her. "Come Tomorrow" is at once a gorgeous and haunting ghost story and a quietly tense exploration of loss and grief and the possibility of connection among strangers. In vivid, lucid prose, "Come Tomorrow" traces Diya's search for her past and an artist's search for her subject. A marvelously atmospheric, moving story.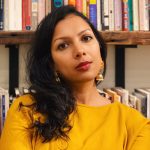 Nina Sudhakar is a writer, poet, and lawyer based in Chicago. She is the author of two poetry chapbooks and her work has appeared in Ecotone, The Rumpus, Witness, The Offing, and elsewhere. For more, see ninasudhakar.com.

Second Place
"Americanos" by A.J. Rodriguez
From judge Kirstin Valdez Quade:
The twelve-year old narrator of "Americanos" has a voice and personality that spark off the page. His yearning - for love, for acceptance - propels the story as he navigates middle school social dynamics, his father's romances, and his first crush. The story thrums with energy and with a remarkably rich sense of place. With his bluster and posturing and vulnerability, this young narrator is impossible not to love.

A.J. Rodriguez is a Chicano writer born and raised in Albuquerque, New Mexico. He is the recipient of a MacDowell Fellowship and a graduate of the University of Oregon's MFA program, where he received the Logsdon Fiction Award. He is the winner of CRAFT's Flash Fiction Contest, the Crazyhorse Fiction Prize, and was selected by Jonathan Escoffery for the Kinder/Crump Award for Short Fiction on behalf of Pleiades Magazine. His stories have also appeared or are forthcoming in Passages North, New Ohio Review, Fractured Lit, and The Common.
Finalists
"A Dark and Radiant Majesty," by Samuel Jensen
"A Petty Physiology," by Colleen Rosenfeld
"Breaker," by Elisabeth Doyle
"Cicada Song," by Sue McMillan
"Glass at the Throat," by Doug Crandell
"Optimize Optical," by Kasia Merrill
"The Aching," by Keri Miller
"The Memory House," by Tre Harris Salas