Matthew Dougherty is the winner of the 2018 Salamander Fiction Contest with his story "Tokoloshe," and Heather De Bel is the second-place winner with her story "Listening to Birds."
Of the winning stories, final judge Molly Antopol wrote:
"Tokoloshe" is a tremendous story: sharp and spare and beautiful, with poetically compressed prose that practically leaps off the page. The characters are generously rendered, the plot smart and expansive and haunting, with an ending that knocked me flat. An electric and evocative story I can't stop thinking about. I loved it."
"Listening to Birds" is a gorgeous and heartbreaking story that manages to find poetry in the most painful parts of our lives. The voice is so persuasive and precise, so clear and compassionate that I'd follow it anywhere. Wildly intelligent writing by a writer I can't wait to hear more from."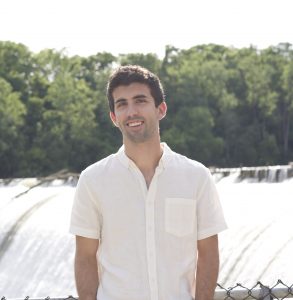 Matthew Dougherty is from Cleveland, Ohio, and graduated from Ohio University's Honors Tutorial College. His fiction has been awarded the Charles Johnson Fiction Award and published in literary journals such as Crab Orchard Review, Sphere, and others. A Teach For America alumnus and current MFA student at West Virginia University, he also enjoys writing and performing original songs under the artist name Matt Skerk.
Heather De Bel is a writer from New Jersey. She received her BA from Ramapo College and her MFA from the University of Maryland. Heather is the recipient of UMD's Jack Salamanca Thesis Award. She currently teaches at William Paterson University.