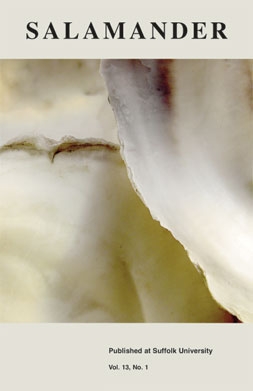 Cover art
"from Consider the Oyster: Photographs 2007"
by Emily Hiestand
Emily Hiestand, author of three books, including Angela the Upside Down Girl (true stories) and The Very Rich Hours (travels), is also an award-winning visual artist.
Contributors
colleen abel
ruth kramer baden
susan nisenbaum becker
brion berkshire
pam bernard
Pam Bernard is a poet, painter, editor, and adjunct professor of creative writing.  Her latest of collection of poems is entitled Blood Garden: An Elegy for Raymond. A book-​​length poem entitled Esther is forthcoming. She teaches creative writing at New Hampshire Institute of Art and Franklin Pierce University.
emily borgmann
sarah brownsberger
Sarah M. Brownsberger is a poet, novelist, and translator based near Reykjavik, Iceland.
rob cook
anne coray
david crouse
David Crouse is the author of the short-​​story collections Copy Cats, winner of the Flannery O'Connor Award, and The Man Back There, winner of the Mary McCarthy Prize. He lives in Fairbanks, Alaska.
ellen davis
john f. deane
John F. Deane founded Poetry Ireland and its journal the Poetry Ireland Review. His most recent collections of poetry are A Little Book of Hours (Carcanet, 2008) and The Instruments of Art (Carcanet, 2005).
melina draper
valerie duff-strautmann
Valerie Duff-​​Strautmann is the author of To the New World (Salmon Poetry). She is the poetry editor of Salamander and works as a freelance writer and editor. Reviews and poems have appeared recently or are forthcoming in the Boston Globe, The Journal, TheCommonOnline, Gulf Coast online, and Poetry Northeast.
linda nemec foster
kathryn gahl
jessica greenbaum
Jessica Greenbaum's second book, The Two Yvonnes, which came out from the Princeton Series of Contemporary Poets, was chosen by Library Journal as one of the best five books of poems in 2012.
holly hartel
todd hearon
kathleen hellen
roberto juarroz, tr. by mary crow
dana kinstler
rachel klein
j. t. ledbetter
lisa lewis
tom lombardo
s. a. mckenzie
wendy mnookin
carol moldaw
fabio morábito, tr. by kathleen snodgrass
matt nienow
collier nogues
eric pankey
nathaniel perry
allan peterson
frances richey
susan roberts
susannah w. simpson
chris siteman
erin elizabeth smith
bonnie stewart
junichiro tanizaki, tr. by liz doles and ivan gold
joshua weitz
david welch
steve wilson