Join us at the Suffolk University Poetry Center this month for these incredible readings:
Thursday, November 6, 6 PM
Suffolk Poetry Center; 3rd Floor
73 Tremont Street
Margot Livesey grew up in a boys' private school in the Scottish Highlands where her father taught, and her mother, Eva, was the school nurse. After taking a B.A. in English and philosophy at the University of York in England she spent most of her twenties working in shops and restaurants and learning to write. Her first book, a collection of stories called Learning By Heart, was published by Penguin Canada in 1986. Since then Margot has published six novels: Homework, Criminals, The Missing World, Eva Moves the Furniture, Banishing Verona and The House on Fortune Street. Her seventh novel, The Flight of Gemma Hardy, will be published by HarperCollins in January 2012.
Margot has taught at Boston University, Bowdoin College, Brandeis University, Carnegie Mellon, Cleveland State, Emerson College, the Iowa Writers' Workshop, Tufts University, the University of California at Irvine, the Warren Wilson College MFA program for writers, and Williams College. She has been the recipient of fellowships from the Guggenheim Foundation, the N.E.A., the Massachusetts Artists' Foundation and the Canada Council for the Arts. Margot is currently a distinguished writer in residence at Emerson College. She lives with her husband, a painter, in Cambridge, MA, and goes back to London and Scotland whenever she can.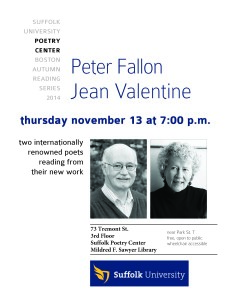 Thursday, November 13, 7 PM
Suffolk Poetry Center; 3rd Floor
73 Tremont Street
Peter Fallon was born in Germany in 1951 and grew up on his uncle's farm near Kells in County Meath. He is an Honours Graduate of Trinity College, Dublin, where he has been Writer Fellow and Visiting Writer in the English Department. At the age of eighteen he founded The Gallery Press which has published more than four hundred books of poems and plays by Ireland's finest established and emerging authors and which is recognized internationally as the country's pre-eminent literary publishing house.
Jean Valentine won the Yale Younger Poets Award for her first book, Dream Barker, in 1965. Her 12th book of poetry is Break the Glass (Copper Canyon Press, 2010). Her next book, Shirt in Heaven, is forthcoming from Copper Canyon in 2015. Door in the Mountain: New and Collected Poms 1965-2003 was the winner of the 2004 National Book Award for Poetry. The recipient of the 2009 Wallace Stevens Award from the Academy of American Poets, Valentine has taught at Sarah Lawrence, New York University, and Columbia. She lives in New York City.